Your search returned the following results...
bookData: Paper; ii, 96 pp.; 8.5 x 11; maps, illustrations, index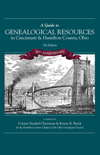 Price: $5.00
List Price: $12.95
You Save: $7.95 (61%)
For those who have used this valuable resource, you know what a huge benefit it is to have local resources and contacts in one booklet. This special 40th anniversary edition contains updated and revised information found in the previous guides and includes, among other things, locations of churches, cemeteries, repositories and their collections, publications for further research, annexation information, and names of current and past communities and post offices.