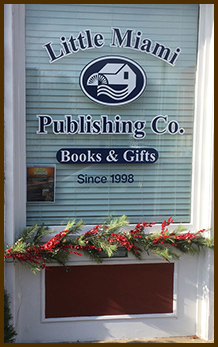 The Little Miami Publishing Co. is located in old Milford, Ohio, in Clermont County. Housed in a beautiful 200-year-old stone building, LMP specializes in
histories, biographies, and reference and genealogical publications, among others
for the professional and family historian.
We are so glad you have stopped by our site for a visit. Please take a good look at our catalog of books as well as our collection of finely made Byers Carolers. If you find yourself in the Milford area, we hope you will come see us at our Water Street storefront and offices. Milford is a lovely town, full of quaint shopping, eateries, coffee shops, and lots of history. We look forward to meeting and talking with you!
Barbara Gargiulo, Proprietor
Little Miami Publishing



A Tribute to William S. Fee,
author of Memoir of Vietnam, 1967.
As we approach this Veterans Day please remember local veteran and author William S. Fee who passed away on October 4, 2019.

It is with great sadness to report that Bill Fee, author of Memoir of Vietnam, 1967, has lost his battle with cancer. He was a kind and gentle man, a joy to work with, and he will be greatly missed. Bill served as a rifleman with the First Infantry Division and began writing his memoir while hospitalized and recuperating from his battle wounds. As he got older, Bill finished his writings and in October 2015 Little Miami Publishing was honored to play a part in seeing that his dream of publication was completed. Although intended for his family only, thinking no one else would be interested, he allowed me to offer his memoir to the public. It is in its second printing. Please remember William S. Fee.