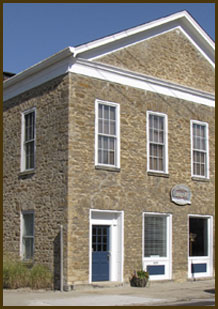 The Little Miami Publishing Co. is located in old Milford, Ohio, in Clermont County. Housed in a beautiful 200-year-old stone building, LMP specializes in
histories, biographies, and reference and genealogical publications, among others
for the professional and family historian.
We are so glad you have stopped by our site for a visit. Please take a good look at our catalog of books as well as our collection of finely made Byers Carolers. If you find yourself in the Milford area, we hope you will come see us at our Water Street storefront and offices. Milford is a lovely town, full of quaint shopping, eateries, coffee shops, and lots of history. We look forward to meeting and talking with you!
Barbara Gargiulo, Proprietor
Little Miami Publishing
Hometown Holidays Book Signing in Old Milford
Little Miami Publishing Office
19 Water Street, Milford, Ohio
Saturday, November 24, 2018
11:30 a.m. to 2:00 p.m.