Your search returned the following results...
Search results by category:
Author/Editor: Joseph M. Walton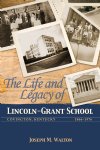 Price: $35.00
Beginning with the early development of the territory in Northern Kentucky, the story of Lincoln-Grant School in Covington, Kentucky, takes the reader on a journey from the pre-Civil War era through a seemingly timeless period of racial separation, to the end of legally segregated public schools in the United States of America. As it sorts through the rationales, the legalities, and the events surrounding one of many racially segregated schools in the United States, the dialogue unfolds the larger story of human relationships between two primary racial groups in America--black and white.

See the index here.