Your search returned the following results...
Search results by category:
Author/Editor: Dr. Kenneth Barnett Tankersley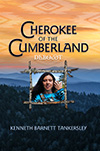 Price: $35.00
This book examines the origins, prehistory, and history of the Cherokee living in the Cumberland (i.e., the Cumberland Mountains, Cumberland Plateau, and Cumberland River valley). Previous Cherokee research has either focused on the Eastern Band Cherokee located in the Qualla Boundary region of western North Carolina or the Cherokee Nation and United Keetoowah Band Cherokee headquartered in Tahlequah, Oklahoma. This book focuses on a group of Native Americans who refused to move, retreating into the wilderness, inter-marrying with white traders and settlers. In some cases, family members escaped the removal process and found their way back to live in their homeland. Their survival depended upon their ability to publicly suppress their culture and heritage, generation after generation. Despite almost two centuries of cultural concealment, Cherokee continue to survive in this region as they have since time immemorial.

View the index here.