Your search returned the following results...
Search results by category:
isbn: 9781941083215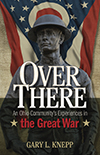 Price: $22.50
Nearly two million Americans—young, innocent, and patriotic—were sent to the blood-soaked battlefields of Europe to, as President Wilson declared, "Make the World Safe for Democracy." There, they encountered the horrors of modern war—poison gas, disease, death, and destruction on an unimaginable scale. Through it all, the doughboys upheld their American ideals, earned a reputation as fearsome, courageous fighters, and won the Great War. Over There is the story of how the men and women of one Ohio community, both at home and abroad, met the challenge of their generation.