Your search returned the following results...
bookData: Paper; xi, 275 pages; 5.5 x 8.5; photos; maps; notes; sources; index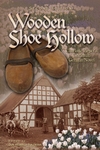 Price: $22.50
This is a historical novel that illustrates and illuminates the German-American heritage. An important historical novel by a woman who, as a young girl, lived in the area dubbed Wooden Shoe Hollow—an area populated by German-born vegetable growers called truck farmers. The story takes place around the turn of the twentieth century and characterizes the people who lived in the area and describes real places and events—a wonderful book for anyone who is trying to learn of the German-American experience.